Good afternoon HTS,
I'm in a bit of a rush right now as I just got a laptop from a friend today which is infected with a virus similar to the European ransom-ware described in
this
topic. To put it short, after about a minute after logging in, the virus locks all system functions and presents something like a webpage which has written on it "we have found obscene child pornography on your system, this computer is being locked down and you must pay a fine of 200$ through moneypak to unlock it". I've searched online for it and it's definitely not new, however none of the screenshots I find match the one that this looks like so I'm assuming it is a newer version of it. I've also found that none of the registry keys and files specified by removal articles exist on the system in question. Link to an article about approximately what it is, but not exactly:
http://botcrawl.com/how-to-remove-the-f ... e-removal/
.
All I have is until tomorrow morning to fix this, and I can't wipe and reload, it's not my or his system, it formally belongs to the our school. I want to refrain from using Malware Anti-Malware Bytes because some of the shit that the school puts on these computers is just as persistent and restrictive as any virus. And besides, if this is a newer version, then there might be parts of it that MAMB would be unable to catch. I have limited user access to it in safe mode, and the virus doesn't seem to start in safe mode either so I'm assuming it did not perform any privledge escalation.
I'll be posting all the information I find as I research the thing here (hopefully i can get some samples of it). If anyone is able to help me with anything, I'd gladly appreciate it. Right now I could use a list of all possible startup methods that it could possibly use on Win 7 systems.
- WallShadow <3
TL;DR I HAZ A VIRUS! What do I do?
edit:
I've found one site with the proper example of this version of the malware (
http://guides.yoosecurity.com/how-remov ... 0-dollars/
)
looks like this: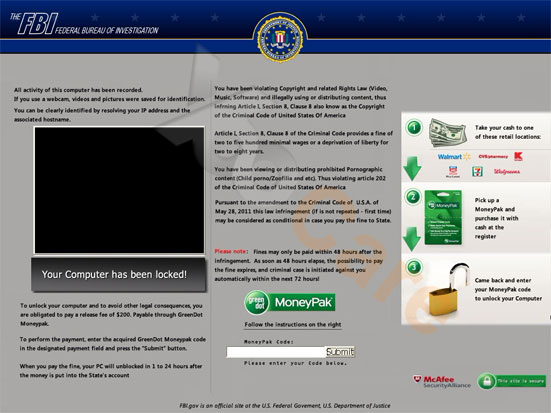 edit 2:
it seems that no matter what I put onto the system, the virus kills EVERYTHING. I've tried setting up a backdoor written in java, but after a few port scans, it seems that the virus kills the java program and even a couple of other unrelated programs open on ports 135 and 139. I've tried setting up a batch file to record how long it takes before it kills everything, it turned out to be less than 20 seconds after the batch file runs. Anyone know of a way to make an unkillable process?
edit 2b:
made a batch script which runs at startup and clones itself 100 times and tries to kill all process other than itself ever single second. the script put up a fight, but the virus still killed ever last clone of it.